The radio station I'm currently interning at has a hotline that a listener can call, 24 hours a day, and leave a message bitching, laughing, or just talking about something. It's called the WTF Line. All of me wants to call said phone number to leave a big fat "What the fuck" about the band Grizzly Bear.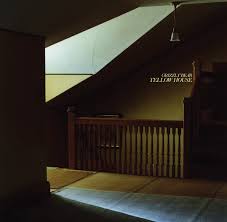 Back in 2006, I read
Heather Phares' review
of the band's album
Yellow House
. I had never heard of them, but I usually take anything that allmusic.com says to be the closest thing to the truth. It was new, it was not on the radio, and she gave the album 4.5 stars (out of 5). Obviously, I was intrigued. When I downloaded what were considered to be the albums highlights ("Knife," "Central and Remote," and "Colorado"), I was almost immediately put to sleep. "Oh, I see," I thought, "these guys are 'atmospheric pop.'" Such a boring moniker/genre, but whatever. Positive reviews were all over the place for this album, and topped many critics year-end best lists. Whatever, I thought, just another band that I couldn't stand and it's not going to bother me.
Fast forward to, well, this year. Music sites such as
Stereogum
and Pitchfork have been gushing over the fact that the band had finished a new album and were set to release it this year. The songs "Cheerleader" and "Two Weeks" have been making their way around the internet, and the latter they even played on
Letterman
(even though they got bumped to appear on his show last week). I agreed that I had changed in about two and a half years, and that I would give the band's new album,
Veckatimest
, a chance when it was released yesterday.
Ooops!
I fail, I guess. EVERYONE, and I mean EVERY online music outlet, LOVES THIS ALBUM. Obviously
Pitchfork gave it a 9.0
, but even the guys over at the A.V. Club gave it an 'A'. And
"Absolutepunk.net" gave it a 90%
. Did you read that correctly? A website called "Absolutepunk.net" gave this "psychadelic folk," "chamber pop" album a 90%. I guess those punk guys need a nap every once in a while, and
Veckatimest
is the perfect way to fall asleep.
Before I wrote this, I finished my second go-around of the album and became ever more un-impressed with Grizzly Bear. The only song that really made an impression was "
While You Wait For The Others
," and that's most likely because it isn't buried sleepy atmospheric arrangments, dirging, thumping guitars, and predictability like every other track on this album. Once you hear the Grizzly Bear formula, that's it: Every track follows it and the surprises are few.
Now once again, I remain on the outside of the "indie" circle looking in. There is something here that I'm not getting, and to be perfectly honest, I'm fine with it. Why do so many applaud Grizzly Bear? Because it's different? Because one of the guys is from Boston? Because Johnny Greenwood of Radiohead claimed them to be his favorite band last year? For some reason, I think that might have something to do with it (I love Radiohead, but don't love everything they say). If anyone hears me talking about
Veckatimest
in a positive light, please call me a hypocrite and punch me square in the face. And, in that unlikely situation, I better have a damn good reason - but I don't see it happening anytime soon. Please, Grizzly Bear, fade into obscurity. I don't want to be put asleep any longer.
On a positive note,
Phoenix
's
Wolfgang Amadeus Phoenix
was released yesterday as well, and that is far superior.
NOTE: Veckatimest is also an unbelievably small island right near Martha's Vineyard. Leave my state alone and go back to your art-school Brooklynites.